At some point we will all retire. Or at least reach the age when it becomes a possibility.
Many will choose to continue their working life as they find it brings them happiness and a sense of purpose. But just as many will decide to give up full time employment and enjoy the chance to take a break from a lifetime of work.
So when you find a friend is reaching that time it should come as no surprise. But when it does arrive knowing what to say to them or how to wish them well can be more difficult than you might first imagine.
The sort of relationship you and your friend have will play a large part in the way you wish them a happy retirement. If you've always had a joking or sarcastic friendship then going with something funny or that pokes fun at them is recommended.
But if you're unsure how that sort of message will be received then steer clear and avoid! The last thing you want to do is upset or offend them over their retirement.
With that in mind remember that whilst some will celebrate and embrace retirement, others will fear it and find the change tough. If you feel this is the way your friend is likely to react then choose to wish them support, making sure they know you're their for them.
Maybe mention spending more time with them, and how it can be something for both of you to look forward to. Just be as positive as you can.
Don't be afraid of writhing them a retirement message though. A card, flowers or gift from you will be warmly received and appreciated.
Use the retirement wishes for a friend examples below as either inspiration and ideas to write your own or feel free to copy them directly. Hopefully you will find an appropriate one that sums up exactly how you are feeling.
Retirement Wishes for Friend
Now that you're retiring you'll have more time for fishing, golfing, and sleeping in, unless of course, you want to trade places with a friend like me.
To my best friend, I watched you work so hard over the years. Congrats on retiring. You have certainly earned it and more!
I am so happy that you are finally retiring for now we can plan for all those trips that we never could take because you were always so busy. Welcome to real life at last.
Today is the beginning of the rest of your life and I know that just as you worked hard in your job, you will work even harder to enjoy your retirement. According to me that is just exchanging one job for another but I wish you well anyway. Happy retirement.
As your friend I want to say that you are a great person and an achiever, and that is what has brought you this far. Happy Retirement!
Remember that even if you are retiring that doesn't mean that we have to stop hanging out. See you at the next coffee break! Congratulations!
Congratulations dear friend for having stood the test of time and put up with hundreds of hours of stressful work without breaking down. And now in return you are going to have hundreds of hours of free and relaxing time. May you enjoy this season of your life and just have fun.
Hard work, dedication and positive attitude. These are only few of the many precious things you have shared with us every day. Thank you and congratulations on your retirement!
Life never stops and retirement is just the beginning of a new phase of life. Embrace it with joy and may peace and happiness come along for the ride too. Happy retirement.
It's great to see someone retire who is as deserving as you. Make sure you work just as hard at relaxing as you have in your long career.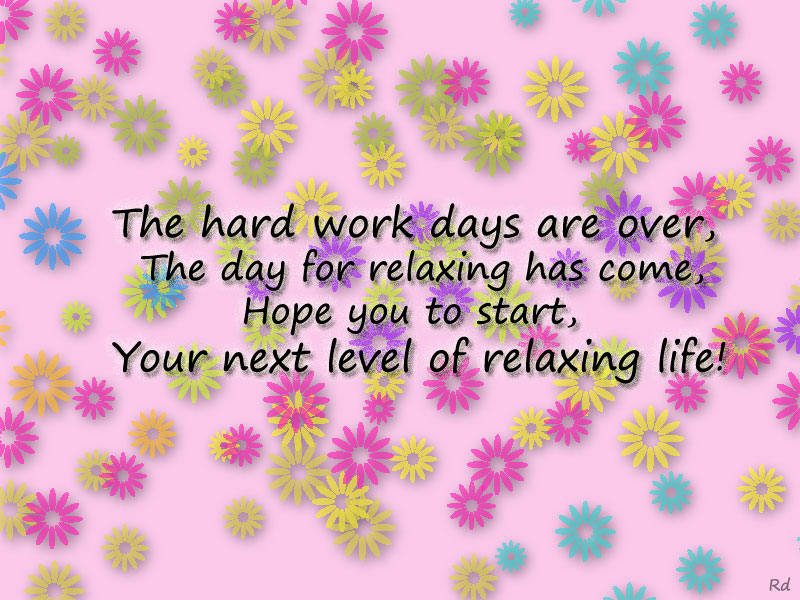 Retirement Messages to a Friend
I'm excited for the additional time with you during your retirement! Congratulations!
To my dearest friend, its going to be great watching you during this time of freedom. Enjoy yourself!
After seeing you accomplish so much, I have a massive respect for you, my friend. Congratulations.
With the warmest of wishes and the warmest of hearts, so excited for your new adventure!

Congratulations on your huge accomplishments! You deserve everything and more. Congrats, my friend!
Congratulations on your retirement!
We're all just a phone call away anytime you'd like to catch up for lunch.
They say that life starts at 40. But the truth is, it starts on your retirement. When you have the luxury to do all the things you wanted to do. Congratulations on your exciting chapter ahead!
Cheers to the great times we had together! Open that sparkling champagne and start an awesome barbeque – this milestone in your life is worth celebrating. Happy retirement!
Best wishes on adventures, fun, and love during your retirement.
Wishing you the best retirement years of your life!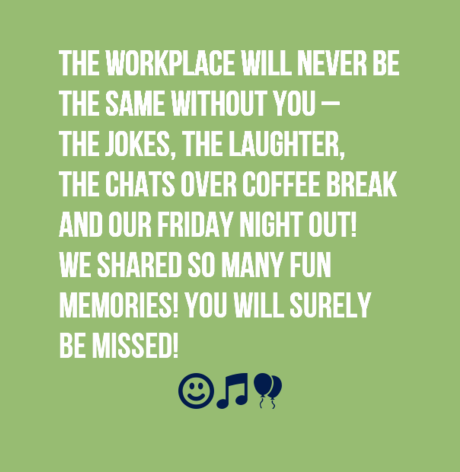 Funny Retirement Messages for a Friend
I have to be honest with you. I'm a little jealous!
I am happy to see you retire at just the perfect time. Actually, any time is the perfect time to retire.
I heard of somebody who created the whole Universe and He retired after only 6 days. It took you much longer than that but you have finally made it!
Congrats on your retirement!
However will you get along without seeing my face every day? Never mind, I'm sure you'll manage. Best wishes on your retirement.
A life without the daily traffic jams and mounts of paper work. Welcome to that rosy life my friend. Happy retirement!
Now that you have the time available, do you think we can hang out?
You finally made it to retirement! Great! Let's go fishing!!
Retirement Messages for a Close Friend
You've been an amazing friend throughout the years. Here's to a well deserved and happy retirement! Best wishes!
To my best friend – have a wonderful retirement. You deserve it!
We've been through so much together and now after all these years you're retiring. I can hardly believe it. Happy retirement, pal.
Congratulations on your retirement. I love you, buddy, and know that retired life is going to treat you well!
Happy retirement to a true friend. I'm so pleased for you and just a little bit jealous!
You have been so dedicated and achieved so much. Your retirement is a testament to that work ethic and determination. Congratulations my friend – enjoy the freedom of retirement.
We've now got the free time to do all the things we've talked and dreamed about for years. Let's enjoy ourselves, buddy!
Happy retirement to someone I consider a true friend. I know you're going to have so much fun now. Enjoy every second of retired living.
We hope these retirement wishes for a friend have given you some good ideas of what to say or write when a friend retires.